Car Servicing options
Don't get confused by the different types of car service, different dealerships and garages will call their packages different names in an attempt to put their stamp on servicing. Servicing all depends on what your car needs. There are essentially three levels of car servicing the basic level, a mid-range option and a major service, each package includes everything that is in the package before. To make this easy to understand we have developed a handy graphic that will explain it all.


The difference between a basic,

mid-range

and major service.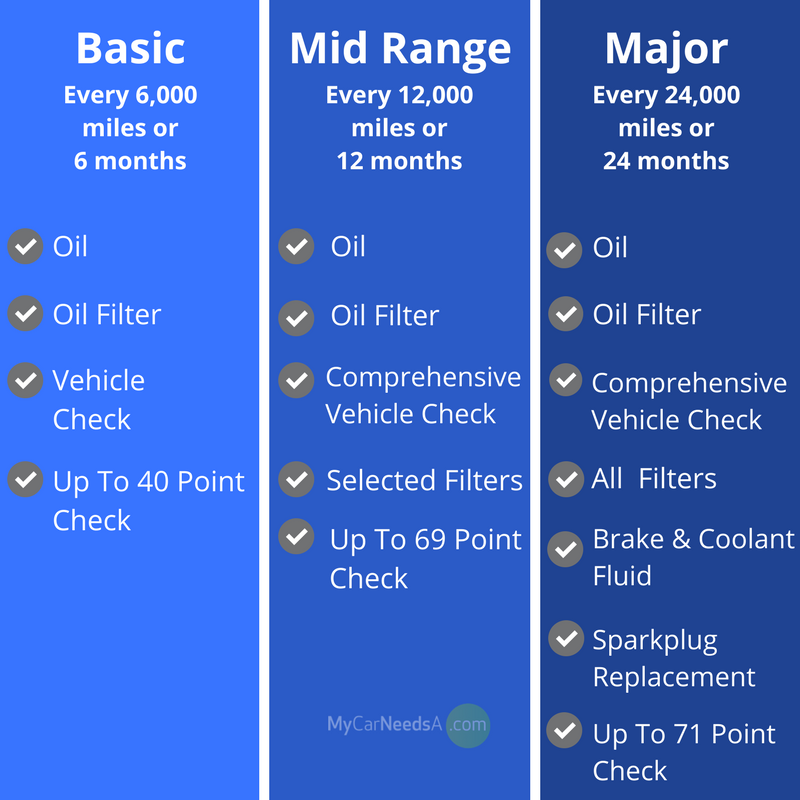 A Basic Car Service Explained
A basic car service is the entry level servicing package which is also known as interim service or a bronze service. A basic car service is usually recommended every 6,000 miles or else every 6 months. Typically included in a basic car service is an oil change, oil filter change and an inspection of main components of the car. The garage you have chosen your job with will look at brake pads, discs and callipers, check your tyres for wear, light and various other checks depending on the garage.
These are simply checks on your vehicle to ensure that the car owner is fully aware of what the car needs. No garage should ever carry out work on the car without the car owners permission, the checks are just for your information and any good garage or service advisor should advise how urgent the work will need to be done.
Compare basic service prices here
Mid Range Or Full Car Service Explained
The mid-range option for car service is also known as a full car service, a silver, short service or mid range servicing package. A full car service is usually recommended every 12 months or every 12,000 miles. A full service includes everything that is in a basic service plus a much more in-depth check and some more additional work.
A full service includes additional filter replacements such as an air filter, in-depth brake checks and overall checks on the engine and more. The mid range service option will also be appropriate if car owners think their car needs a thorough check over, perhaps it is not performing the same.
Compare full-service prices here
Major Service Explained
A major service is the highest level in terms of car servicing packages, some garages also call a major service a master service or a gold service. A major service is recommended every 24 months or every 24,000 miles. A major service is one of the most important services that your car will receive, it is essentially a complete overall check of the vehicle. The overall check which is necessary after 24,000 miles of driving is important at this point because certain parts of the car will have experienced wear and tear or damage over time.
Everything included in a full service is in a major car service plus even more in-depth checks, spark plugs changed, brake fluid, suspension and fuel filters.
Different garages name their service plans differently, do not let that confuse you just think of your car servicing in terms of your miles or how many months from your previous service. It is really that simple, always check your quote to see what the garage is including in their service package.
Try comparing prices, reviews and locations for your vehicle service today with MyCarNeedsA.com. MyCarNeedsA.com are here to help you search for the best car service deals in your area, try typing in your registration number to start the process.