Many mechanics refer to oil as the blood of the vehicle, which is the best analogy to describe it.
Engine oil is fundamental to keep any car running and checking engine oil levels regularly is extremely important. Oil runs around the veins of the car and carries out the important function of lubricating all the major organs in the engine. You should check your oil roughly once a month to ensure you have enough to keep your car running as efficiently and effectively as possible.
Checking your car for oil is really easy, to help you understand the process the Glove Box Blog has come up with some tips and tricks to help make an oil check as easy as possible.
Step one of checking your oil levels
Ensure that you park the car on flat ground, dipping your oil tank on a hill will give you a false reading. Find a flat place to park that's safe and then pop open the bonnet of your car.
Step Two
In your engine, there will be a dipstick usually located in an obvious position beside the oil tank, if you can't see it on an initial scan of the engine check your manufacture user guide. Sometimes the dipstick will have a red or yellow handle which will make it stand out from the rest of the engine.
Step Three
When you locate and remove the dipstick from the holder, simply take a tissue and clean the dipstick to remove any engine oil off the stick. Once you have cleaned it as much as you can, locate the oil tank. Just look for this symbol: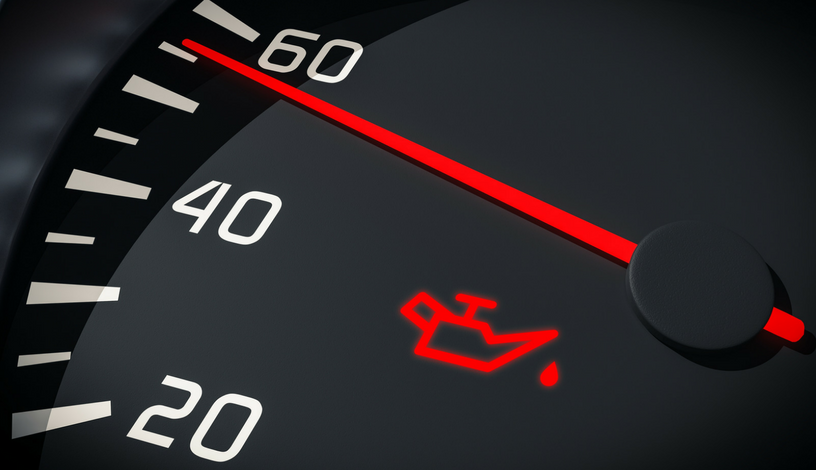 Step Four
Put the dipstick into the oil tank and try to touch the bottom of the tank, once you have done this remove the dipstick and take a look at the bottom for the results. The dipstick will look like the image below, if the oil is in the bottom zone you will need to add some new fresh engine oil. If the oil is above the middle section then your engine oil is full and there is no need to top it up.
If the oil level is in between these, it's fine and does not need to be topped up just yet.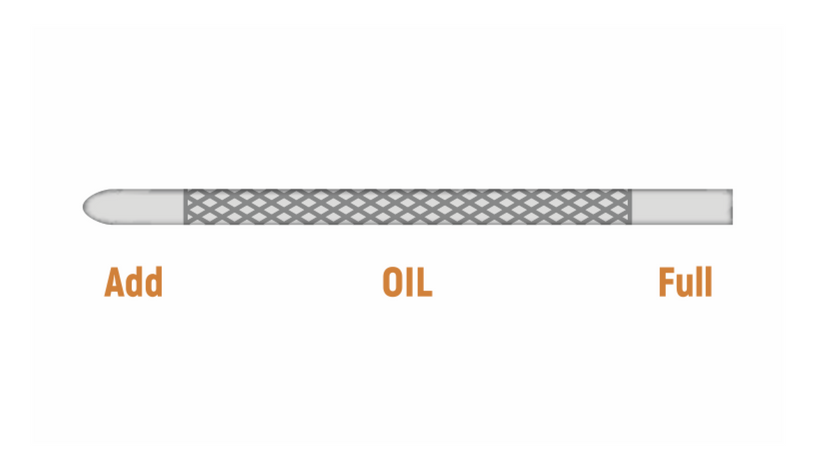 Just to make it clear you do not add oil into the dipstick holder, in some cases, this has happened (easy mistake if you have never worked with an engine before). Add it into your oil tank, again just look for the oil symbol.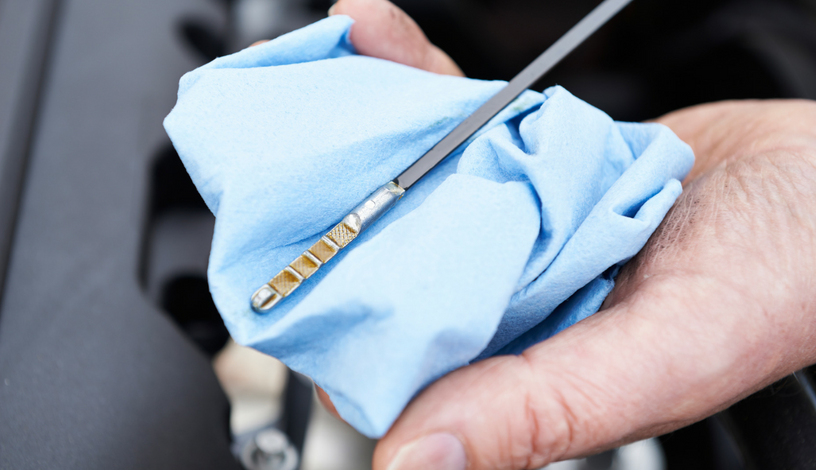 Step 5
Put the dipstick back in the holder and you are done.
It's really simple to check for oil, just remember our tips. To recap, park on flat ground so you can get a proper reading, clean the dipstick first then check for oil. Should your car need an oil change you can get quotes for an oil change near you with MyCarNeedsA.com. If your car is due for a service or is in the garage for any work, they will do a VHC or a vehicle health check to see exactly what your car needs and they will advise you if you need an oil change. If your car is in for a service an oil and filter change is part of any basic service package.
You can get quotes online for your oil change or service online with MyCarNeedsA.com, compare the market for the best deal in your area. All you need to do is enter your reg and a few details so we can match you to nearby garages and then just wait as garages come to you with the quotes. You will receive an email alert from MyCarNeedsA.com with the quote from the garage. Your personal information will not be shared with all the garages, just the work you require and your reg number. This means you can make the decision in your own time and choose which quote suits you better. No more calling around, no more hassle, just tell us what your car needs and let us do the work. Try it today.