Car diagnostics, also referred to as vehicle diagnostics is basically a check to solve or get to the root of the problem with any vehicle. A car diagnostic is carried out by qualified mechanics and technicians who use machinery and vehicle diagnostic tools, to see if there are any recorded problems in your car. Most cars come with automatic recording and computer systems, where any faults in the car are recorded and using these tools enable faults to be detected quickly.
The software in diagnostics test can reveal issues with the cars ignition timing, transmission, engine issues, oil tank or petrol tank and exhaust issues. So in theory a vehicle diagnostic is an in-depth search and review of your car, which would help if your car performance doesn't feel the same or if there are unexplained issues or noises in your car. Get car diagnostics costs with MyCarNeedsA.com today.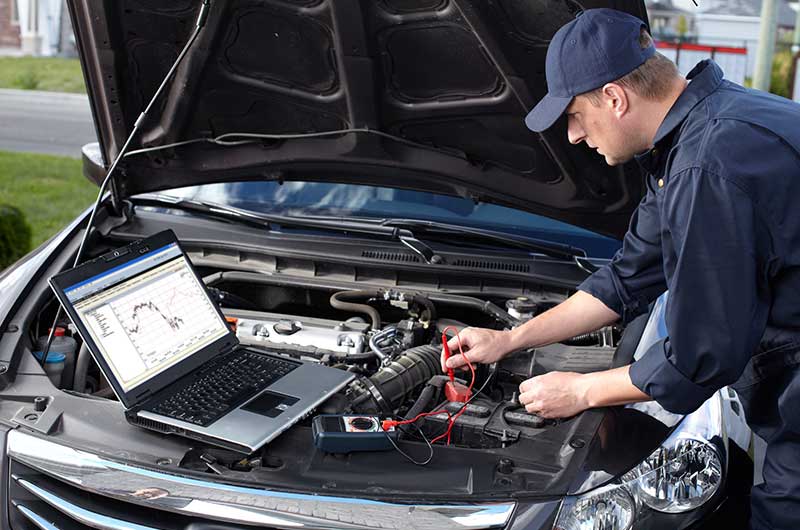 Where Can I get a Car Diagnostic Test?

When a warning light appears on the dashboard it is an automatic indication that there is a fault in the vehicle, from here it is best to go to mycarneedsa.com, enter your registration and get a quote for a vehicle diagnostics test. Whilst a warning light will show there is an issue with the car, a complete car diagnostics check will show the full extent of what has happened behind the scenes.
Car diagnostics are available in most garages through MyCarNeedsA.com. If you enter your registration we will put your job out automatically to mechanics in your area who are able to carry out car diagnostics so they can quote to win your work.
Benefits of having Car Diagnostics Carried out on Your Car

Besides the obvious of diagnosing major faults in your car, a comprehensive car diagnostics check can also unveil any underlying issues. These smaller underlying faults may not be significant to begin with however they can unfold into more serious issues down the line, a car diagnostics check can save drivers a lot of money. Diagnostics test are extremely accurate, as the computer system records all the information over time, for this reason the problem is identified early on and therefore saves mechanic's time consequently costing the consumer less in the long term. There are a lot more benefits to your car as well as your purse, the car is fully checked any problems are recognised and fixed to prevent further damage, a diagnostic is the a clear way of unfolding future major issues in your car.